19. 05. 2021
The "DIAMOND DISTRIBUTOR" award
Despite the hardships connected with the pandemic, we have received the award for the second time. "DIAMOND DISTRIBUTOR" by Pier Luigi 1993 - such an award was given only to two agencies in Poland so far.
Many thanks to Pier Luigi 1993 for the fruitful collaboration.
Lots of creative possibilities, lots of colour and ecological innovations await you this season! More information coming soon, and in the meantime…
Opening of the 2022 season!
We officially open the CALENDAR SEASON for 2022!
Send out a question to biuro@artopen.pl, get to know the full offer – don't wait until the last minute, when the deadlines are the longest, and everyone asks whether we can make it with the calendars before the end of December! 😉
Create it with us
Create your perfect 2022 calendar with us now 2022 calendar with us now 😊
Pier Luigi is a brand that has been present on the market for 28 years now. It's the only one in Poland that produces the highest quality ecological book calendars made of unique materials such as stone paper (it's resistant to water and tearing, and it's extremely durable).
Winning this title was not an easy task for us. Such a well-known brand as Pier Luigi has high standards and appreciates only the best - so this is something we can be proud of. So far, we have managed to create different kinds of calendars and notebooks for clients of various industries throughout Poland. More than 10 years of experience in the industry, creativity and a constantly developing team of the best specialists are our biggest strengths. We keep updating and expanding our knowledge and skills and as a result the services we offer reach higher and higher standards. Our work is our passion, which we will constantly develop, and each of the awards we receive is a reason to be proud and also a motivation for further work and improvement.
Only two advertising agencies in Poland can boast the prestigious distinction of "Diamond Distributor".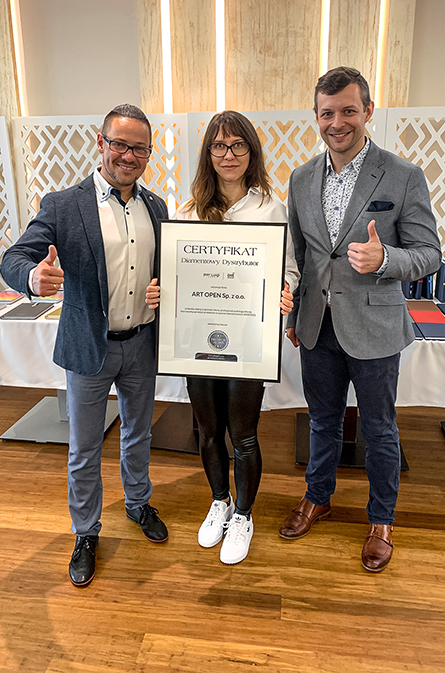 Book calendars, that we make for you are produced entirely from scratch, according to the individual preferences of the client. Our rich offer includes ecological raw materials, such as stone and grass paper, creative sewing, original calendar blocks or marking covers with hot stamping technology.
It is worth mentioning that from May 2021 we are starting the next calendar season, which will be full of novelties. Contact us, today to discuss the details of the project!. You can also use our calendar wizard, which will help you create your own unique calendar.